MV TRANSFORMER REPLACEMENT
Dear Visitor and future Client,
We specialize in medium voltage transformer replacements: Let us take care of your old, oil filled transformer, and replace it with dry type one. A dry type transformer has proven to be efficient, cost effective device, further saving monies on maintenance.
From us you will not only buy quality USA manufactured transformer but complete solution for your plant, including Project Management Service and piece of mind that comes with it.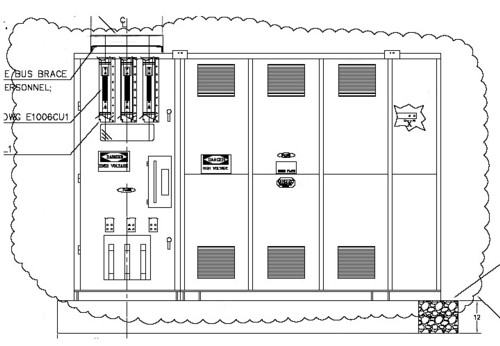 Our services include complete Engineering and Project Management Services:
- Removal and disposal/recycling of the old oil filled transformer;
- Removal and disposal of the old concrete pad and catch basin of the old transformer;
- Complete design package with prints on new transformer integration into the existing system;
- New grounding design and installation;
- Design, engineering and construction of the new concrete pad for dry type transformer;
- Perform the ground survey and resistance test by independent third-party Company. Test report with test data issued for your records;
- Witness of the transformer's regular production testing at the Manufacturer's facility on your behalf;
- Furnish, delivery and rigging onto the place of the new dry type transformer;
- Furnish and installation of the products needed to connect (mechanically and electrically) new dry type transformer (e.g. transformer throat, conduits, copper bars, insulation, standoffs, GPO-3 parts, boots with fasteners, flex connectors etc).
We have Medium Voltage Solutions! Please contact us for your MV Transformer Replacement needs.
Committed to servicing you,
MV POWER Team